Mango Roll-on Wax Starpil 110 g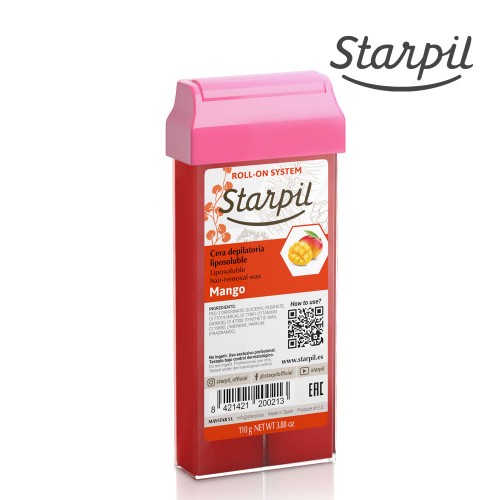 IRIDESCENT PIGMENTS
Dense texture increases grip and reduces burning sensation and discomfort.
Texture designed for gentle hair removal. Pleasant aroma. Ideal for summer waxing.

Skin Type: All skin types. Sensitive skin

Areas: Legs, Back, and Full body
Ingredients: Rosin Ester with glycerine, Rosin Ester with trietilenglycol, Antioxidants, Pigments
How to use: Insert and heat roll on cartridge for 20 minutes. Check that wax has melted to liquid form in roll-on. Remove seal on roll-on cartridge and then roll on a removal strip so wax has completely covered roller. Apply a thin layer on skin (in the direction of hair growth), place hair removal wax strip on surface and pull against direction of hair growth and parallel to the area from which the hair is being removed.
Package
Roll-on wax cartridges
110 g.