Stripless Green Hard Wax Starpil (Original Blend), 1kg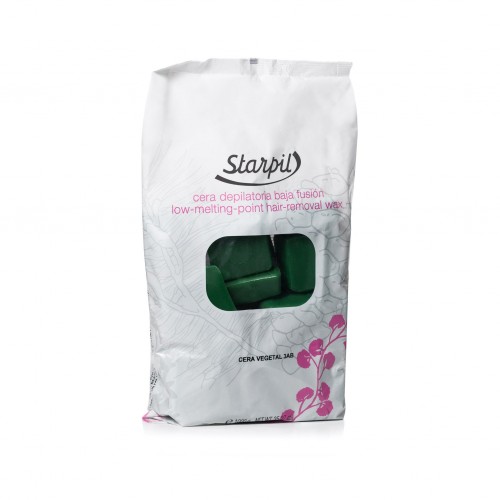 Pliable. Applicable in thin layers. Ideal for facial waxing.

Green 3AB, Suitable for sensitive and dry skin.

no strips needed for removal

flawless adhesion
easily spread
extremely pliable
opens up pores
outstanding hair removal
delays hair regrowth
high performance
huge variety
wax that set quickly

Areas
: Upper Body, Lower Body, Bikini Brazilian Area,
Ingredients: Natural Bee's Wax, Microcrystalline Wax, Colofonia, Rosin Ester with Glycerin, Antioxidants and Pigments
How to use: Simply warm the wax to 50°C/120°F full liquid form. Then, adjust the temperature to a lower setting and wait approximately 1/2 pot about 25-30 min full pot 40-45 min. Test wax's temperature on wrist before application. For best results, prep your skin for waxing using Starpil Prepil gel. Apply wax in the direction of hair growth firmly. Leave to cool, then firmly peel off wax, pulling it back in the opposite direction of the hair growth.
Package
STRIPLESS HARD WAX TABLETS
1000 g.